A new music & poetry
performance project:
compositions
by Cliff Crego

Music? The one thing humans
do that makes the rest of
Nature jealous.


---
MAY 2014 feature: NEW: Intro: OCTET NO. 4 CHAMBER CONCERTO:
for violin solo The most recent piece in the Circle/Square OCTET PROJECT |
intro without nested MP3s [loads faster] | pdf (48 pages: 759 K) mp3 (4.2 Mb)
[DOWNLOAD to DISK: Windows = right click; Mac = option + click] |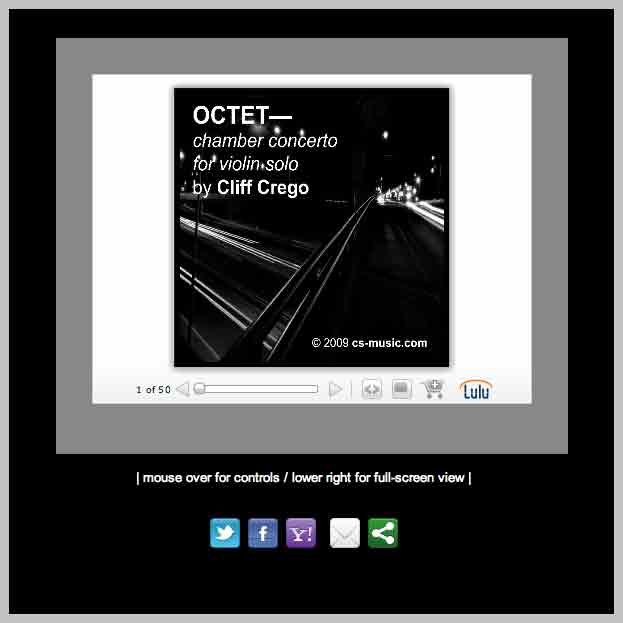 PREVIEW score
OCTET NO. 4 CHAMBER CONCERTO:
for violin solo


[opens in new window]
---

cs-music.com/mp3

The only URL you'll need
for quick & easy downloads
of any of the scores
and recordings featured
on Cliff Crego's
Circle/Square
website.
The Circle/Square collections . . .
New Music for PERCUSSION pieces for percussion ensembles, duo, solo, etc.



New Music for OCTET a series of 12 new virtuoso concert pieces for flute (piccolo),
oboe, B-flat clarinet, F horn, C trumpet, tenorbass trombone, & contrabass:




Pieces for strings

(1) The Little Fox; (2) Old Joe; (4) Times Four; (3) Three Pieces for harp and violin
(4) The Little Triangle for violin and cello; (5) is 5 for violin and piano;
(6) Wanderer for string orchestra; (7) The Circle in the Square version for string quartet;
(8) Stonepine Mountain for string quintet and piano (and harp)





Music for Young Performers 8 pieces
for pianosolo; 2 for violin and piano
a selection: The Little Fox; The Pear-shaped Lute; Times Four; Old Joe; Mist on Snowy Mountain; ...Away...; Light on Quiet Water; The Circle in the Square; arrangements:
Wondrous Love; The Tenpenny Bit, etc.





The Trillium Collection a set of six compositions based on traditional

celtic fiddle tunes for string trio (versions for violin, viola an 'cello and two violins
and viola) for young performers [scores and parts of both versions available as PDFs]



Music for Voice pieces for voice and instrumental ensemble

(1) The Fire that Consumes my Brother: for voices, brass choir and organ; (2) Light on Quiet
Water; (3) Lament (Rilke) for double female choir; (4) Soybean Pie! for double children's choir;
(5) Everything is... (Anna Akhmatova) for double female choir and double brass choir
(6) "I should not dare to leave my friend" (Emily Dickinson) for double female choir
and double flute and harp choir; (7) The Winter Songs for mezzo-soprano and solo violin:
(8) The Shepherd's Purse for soprano, oboe and harp;



Pieces for small orchestra pieces for chamber orchestra

(1) Schlieren for 21 instruments; (2) Pharos: Two Pieces for the ASKO Ensemble,
for 14 solo instruments



The Magic Box pieces for vibraphone & marimba

(1) The Magic Box for vibraphone and marimba; (2) An Invention in Two Voices
for vibraphone and marimba; (3) Moonstone for viberaphone solo; (4) Nightphantom
for marimba solo



New Music for VIOLA for solo viola, duo, quartet & ensemble





The Fireweed Collection pieces for harp solo & harp with ensemble
with small combinations of voice and other instruments



NEW: Soundpoems





The Star Cycle: pieces for solo instruments pieces which explore in sustained and
serious way the limits of the possible, for virtuoso NEW MUSIC specialists . . .

(1) Sirrah, for horn solo; (2) Bright Star I and II for trumpet solo;
(3) Ori, for oboe solo; (4) 4-page Sonata for piano solo; (5) m, for solo violin
(6) Cih—for flute solo; (7) Spica, for percussion solo; (8) m4, for cello solo:
(9) Regulus regulus, for piccolo solo; (10) Mira, for harp solo
(11) Mintaka,for percussion solo (7 drums); (12) m4, for bass clarinet



100 MINIATURES,
a set of one hundred black & white images,
with one hundred
metaphysical sayings in prose . . .

"The more in tune we are with the natural world,
the fewer and fewer words & images will be needed
to say ever-more important things."

Cliff Crego, The WALLOWAS,
Oregon X.29.2013
100 MINIATURES—online gallery
Each miniature is a kind of meditation on
one idea & one image
;
Each lasts
±15 seconds
; They play in
random
order.
The music is my
BOREA Mix
,
for hand-played ePecussion Orchestra
.
[ mouse over for controls /
lower right for full-screen
]
This is the second draft of a
FOUR-DRAFT project
;
The first draft is already on the web, each poster w/ its own page,
and own downloadable PDF. For a sample in TWEET form
and to
download the entire set of 100
, follow links below....,
#art #poster
THE POETRY OF IMAGES
http://bit.ly/1alu3UQ
pdf
http://bit.ly/192X9ue
SET of 100 MINIATURES
[24 Mb]
http://bit.ly/TLkDcp


You can buy the CD or mp3 of
BOREA Mix
at
AMAZON
or
iTUNES
I'm down at my Office in
happy Eagle Valley, Oregon,
about four months a year.
I don't use phones,
but you can SKYPE me at
cliffcrego
anytime
FOR INFO about the 100 MINIATURES project,
how to buy prints online, or how you can do an exhibit
with large or small-scale prints near you,
see below . . .
---
| About Cliff Crego | for recordings, go to Circle/Square: Recordings |
---
| Other websites by Cliff Crego: picture-poems.com | The Poetry of Rainer Maria Rilke | Dutch Poetry: *r2c* |
---
Look for new additions every month or so.
Created and maintained in the Wallowas, Northeast Oregon, USA.
(First posted: IV.4.1999; Last update: V.1.2014)

Questions regarding performance materials to score-info@cs-music.com
Questions regarding commisioning of new pieces to commissions@cs-music.com
You may also write Cliff directly at
crego@picture-poems.com


Copyrigh © 1999 - 2014 Cliff Crego All Rights Reserved