P/P | r2c | July: When Form is Content

| click photo or here for r2c new dutch poetry | HOME |
"...left: glittering snakes Endless
cloud in cloud  cloud on cloud /
cloud next to clouds..."

from Centers, a
poem by I.K. Bonset
(Theo van Doesburg)

This week, an image called
Roadside Goatsbeard
(Tragopogon pratensis).
Also: a new translation
of a Lowland poem.




Twitter
r2c_dutchpoetry

---
When Form is Content

An historic visual soundpoem by I.K. Bonset (Theo van Doesburg), co-founder of de Stijl,
dating from around 1920. (click on poem to view the original Dutch version of the
same text):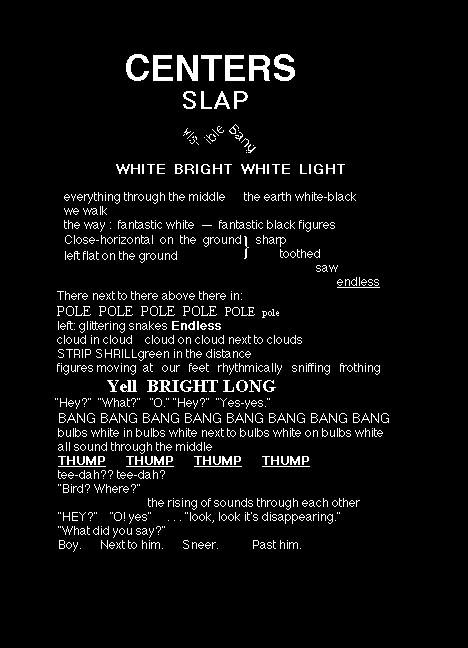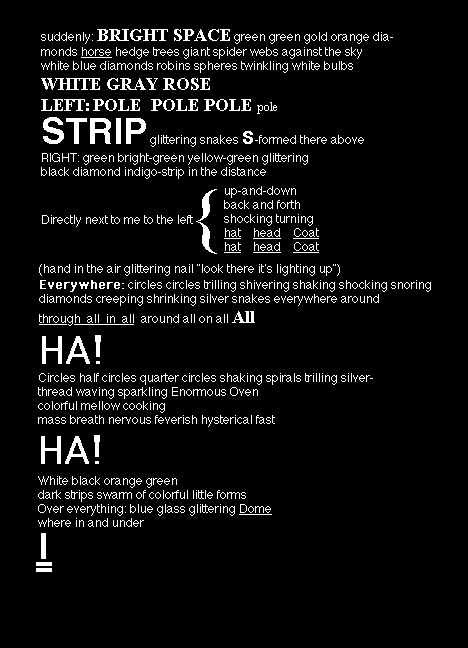 I.K. Bonset (Theo van Doesburg (Chr. E.M. Kupper 1883-1931))
(tr. Cliff Crego) (click to text to view Dutch origianl)

s
---
Recent Dutch news report,
perhaps of interest to r2c readers...
(1) Grondrechten centraal in Anne Frank
Huis (22.IV.01)

'In het Anne Frank Huis in Amsterdam gaat
woensdag de tentoonstelling 'Grensgevallen' van
start. Tijdens deze interactieve tentoonstelling
worden de bezoekers uitgedaagd om een keuze te
maken tussen twee grondrechten: de vrijheid van
meningsuiting en het recht beschermd te worden
tegen discriminatie. Twaalf korte films tonen
situaties waarin beide grondrechten met elkaar
in conflict komen. De bezoekers kunnen met
stempanelen aangeven welk recht zij zwaarder
vinden wegen. Een van de filmpjes gaat over
de Amerikaanse rapper Eminem, die berucht is
vanwege zijn beledigende teksten.De tentoon-
stelling zal een jaar lang te zien zijn.'

© 2001 Radio Nederland Wereldomroep
(1) Basic rights are central in the Anne
Frank House (IV.22.01)

"This Wednesday in the Anne Frank House in
Amsterdam the exhibition "Borderline Cases" will
be opened. At the inactive exhibition, visitors will
be challenged to make a decision between two
basic rights: the freedom of expression and the
right to be protected against discrimination.
Twelve short films will show situations in which
these two basic rights are in conflict with each
other. The visitors can indicate via a voting system
which right they deem more important. One of the
films concerns the American rapper Eminem,
who is well-known for his insulting texts. The
exhibition will be open all year."

(tr. Cliff Crego)

---
---
| See also a selection of recent Picture/Poem "Rilke in translation" features at the Rilke Archive.

---
See also another website
by Cliff Crego:
The Poetry of
Rainer Maria Rilke
A presentation of 80 of the
best poems of Rilke in
both German and
new English translations:
biography, links, posters
---
| # listen to other recordings in English and German of eight poems from
The Book of Images at The Rilke Download Page (# Includes instructions) |
---
| back to r2c | back to Picture/Poems: Central Display |
---
| Map | TOC: I-IV | TOC: V-VIII | Image Index | Index | Text Only | Download Page | Newsletter | About P/P | About Cliff Crego |

---
Photograph/Texts of Translations © 2001-2014 Cliff Crego
(created VI.10.2001)